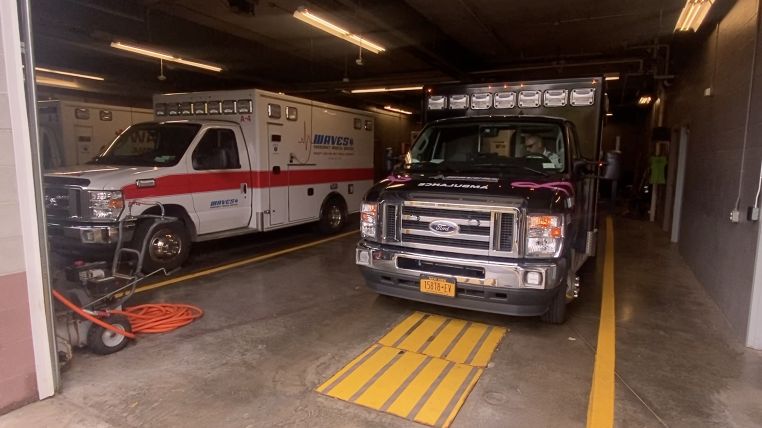 Eric Kehoe goes to work and expects a busy day now.
Call volume for WAVES Ambulance is up 18% from last year.
"And it's not isolated to our agency or our county. This is a nationwide problem," says Kehoe.
Kehoe says during the pandemic, no one wanted to go to the hospital and a lot of people neglected their medical needs. And now it seems everyone wants to go to the hospital.
But if you're taking an ambulance to an ER, you can expect to wait for hours.
"There will be times we're held there for two to three hours," said Kehoe.
In a statement, Saint Joe's Health Hospital CEO Leslie Paul Luke, stated, "Longer wait times in the emergency room can be attributed to a convergence of several factors beyond our control, including COVID-19, staffing shortages and limited ability to discharge patients to nursing homes because they have stopped accepting new residents."
The hospital is slowing down elective surgeries, consolidating ORs and reallocating staff to try and fix long wait times. Luke also advises people only use the Emergency Department for true emergencies.
"We have two urgent cares here in our community, and they're out the door waiting in lawn chairs. It looks almost like a county fair sometimes with the number of people that are waiting in line there," said Kehoe.
It's true. With demands for care and COVID testing, urgent cares are swamped.
A public relations manager for WellNow Urgent Care wrote that the company has made 16 sites throughout New York dedicated COVID-19 testing sites for asymptomatic patients. In Central New York this includes Clay, Fairmount, Fulton, Liverpool and Syracuse.
"People aren't using primary care, they aren't using plan methods of their health care, so when they have an illness, they have nowhere to go, so the urgent care is usually where they start, and if the problem is too in depth for them to handle, what they'll do most times is call the ambulance to be transported to the emergency room."
WAVES is fully staffed with 49 employees.