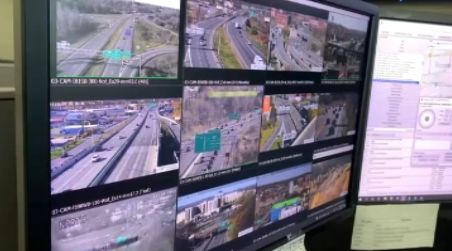 When you hear the word traffic, it usually brings a negative idea to mind. But when it comes to transportation, it's a key part of a communities' success. Local agencies are developing plans to maintain and promote an even safer commute with a collaborative Traffic Management Center for Central New York.
Corey Driscoll Dunham is the Chief Operating Officer for the city of Syracuse, and it's part of her job to think about traffic management.
"We currently have a traffic management center that's located at the Department of DPW. And they're really there to monitor a lot of our corridors, our traffic signals, the about 151, 150 traffic signals that we have throughout the city," says Dunham.
The state Department of Transportation has its own Traffic Management Center, housed at 333 East Washington Street, but what if the two combined their efforts? That's exactly what the DOT and the city of Syracuse have asked the Syracuse Metropolitan Transportation Council to study for them to see if it's lucrative.
"Obviously, with the amount of construction we have coming up, not only in downtown this year, but also with 81 looming on the horizon. It's really more important than ever, that we're working closely together with our other partners and transportation to really have a seamless operation that is efficient and provides the best service to residents and visitors. A lot of other municipalities in New York state do have colocation. That municipality is co-located with the state Traffic Management Center, and so we'd like to explore that as well," said Dunham.
The SMTC says in their research they will identify current and future problems and identify solutions.
"Not only in terms of operating efficiencies, but perhaps their cost savings. Perhaps there is a software system that, we're using one, they're using another, and perhaps we can consolidate our efforts that way and that way, we're just all on the same page. We work so closely together anyway. And you know, exploring colocation, I think just makes sense for the future," said Dunham.
The Syracuse Metropolitan Transportation Council says these are just the first steps in a long process. They plan to have their research complete by April of 2022. And they anticipate and welcome other municipalities and agencies involvement in the final plan of a Joint Regional Traffic Management Center.