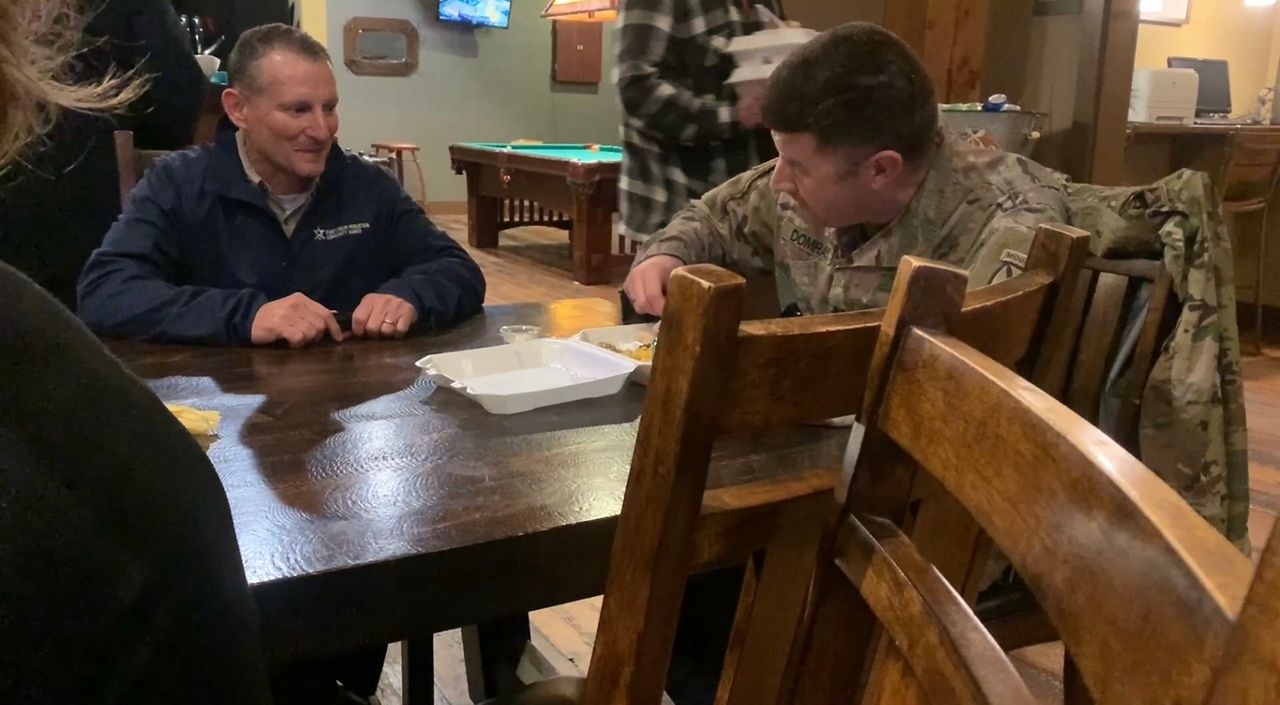 Fort Drum Mountain Community Homes recently hosted a turkey drive, providing full Thanksgiving dinners to soldiers and their families as a way to say thank you for their service. FDMCH also cooked some meals for single soldiers and opened its common area for them to sit down and enjoy dinner and the company of other soldiers.
Soldiers say the gesture is extremely appreciated and while they may not be home, they certainly feel a part of a big family at their home away from home.
For the event, more than 200 cars lined up on Fort Drum for the full, holiday meal – right down to the desert.
"My wife and I love this. We can't thank everybody enough," one soldier said.
Corn, stuffing and cheesecake are just a few of the fixings donated by local business in support of this drive hosted by Fort Drum Mountain Community Homes, the company that runs the housing on the installation.
Some families are even taking it a step further and using this donation to help feed even more soldiers who may not make it home for Thanksgiving.
"We are doing Thanksgiving for these soldiers at the barracks. We are cooking at least 50 pounds of turkey, plus all the fixings that go with it and everything is homemade," Fort Drum spouse Nicole Trotta said of Thanksgiving Day.
Everyone here was doing something to help someone far away from home, feel at home for the holidays.
"Oh, it's very important you know. That warmness from people caring and going out of their way for the troops – it's so awesome," Fort Drum spouse Cynthia Calderon added.
It's a "thank you" that extended much further than just the one event. For every soldier that at least has family with them here on Fort Drum to celebrate the holidays with, there's a soldier who is here alone.
For everyone of them, Fort Drum Mountain Community Homes wanted to make sure they had a meal as well, home-cooked with love. With love, comes that feeling of home.
So, in addition to the meals being offered to go, with COVID-19 safety in mind, Mountain Community Homes opened up its Timbers (single soldier housing) common area so single soldiers could sit and eat, together.
Captain Jeff Domras has been stationed on Fort Drum for four years. He is one of those single soldiers, although he is not actually single.
Domras has a wife and two daughters, but they are up in Maine, unable to be here with him for this dinner. That is why he looks forward to night's like these where he can meet new people and make new friends and on this day, as fate would have it, reunite with some old friends.
"Oh it's great. I haven't seen one of them in a while. Didn't even know he was here until tonight. That makes it great," Domras said.
Because when you wear a uniform, home can be anywhere. It's just about what you make of it.