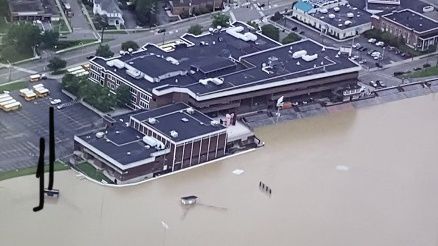 This week marks 10 years since Tropical Storm Lee ravaged the Southern Tier, leaving hundreds without homes, and washing away neighborhoods. Everything from schools to hospitals were out in danger, for the second time in five years.
Back in 2006, the Susquehanna River reached unprecedented levels, causing one of the worst floods in the Southern Tier's history. No one could have predicted that just five years later in 2011, another "100 year flood" would wash out many of these same neighborhoods.
Union-Endicott high school was one of many to be turned into a river, with water reaching above the goalposts on the football field.
"My first memory is getting the middle school kids home. Getting them out of school early, getting them home and then it was all about
getting the kids home safe, and then we just kept watching the water rise and rise and rise," said Toby Riddleberger, UE director of Facilities and Safety.
Toby Riddleberger was one of many, forced to watch on as the children he oversaw each and every day faced uncertainty and even danger. He knew just how important it would be to get these kids back into their classrooms.
"After every kind of traumatic event, there's nothing better than structure for kids, and what better structure than to get back into school, have the kids have their friends, have them have a place to eat, have all the things that we do in school," said Riddleberger.
But for UE, this flood was also a story of preparation. This wall was put in not long after the 2006 flood, and as this photo shows, it just barely kept the rising river out of the school. Thankfully almost everything inside was saved.
"When we came back here the water is completely over there, being held by the flood wall and it was just crazy to think about how great it is but also how much pressure must be out there and this whole fall is actually working like it's supposed to," said Riddleberger.
For Lourdes Hospital, preparation saved their main campus, but nearby practices didn't have that same fate, dispute not flooding in 2006.
"We believed we were going to be just as fine this time around and that wasn't the case at all. Three of our medical practices flooded severely, requiring us to remove all of the charts, all of the paper folders, and have them cleaned up and we couldn't see any patients at those sites for multiple months," said Chad Patton, Lourdes vice president of Network Development.
Thankfully a flood wall, installed just months before the 2011 flood saved the campus, and this line stands as a reminder of just how lucky Lourdes truly was.
And with nearby practices closed, the hospital became especially important.
"We saw a tremendous increase in the amount of urgent care visits as a result of all of those people trying to work through the damage done to their homes. I think we gave more Tetanus shots than we'd done in a year," said Patton.
Despite this tragedy, despite all of the heartache it caused ten years ago, the Southern Tier showed its true spirit of banding together and never giving up. It's estimated that 229 homes were destroyed while another 9,000 were heavily damaged.