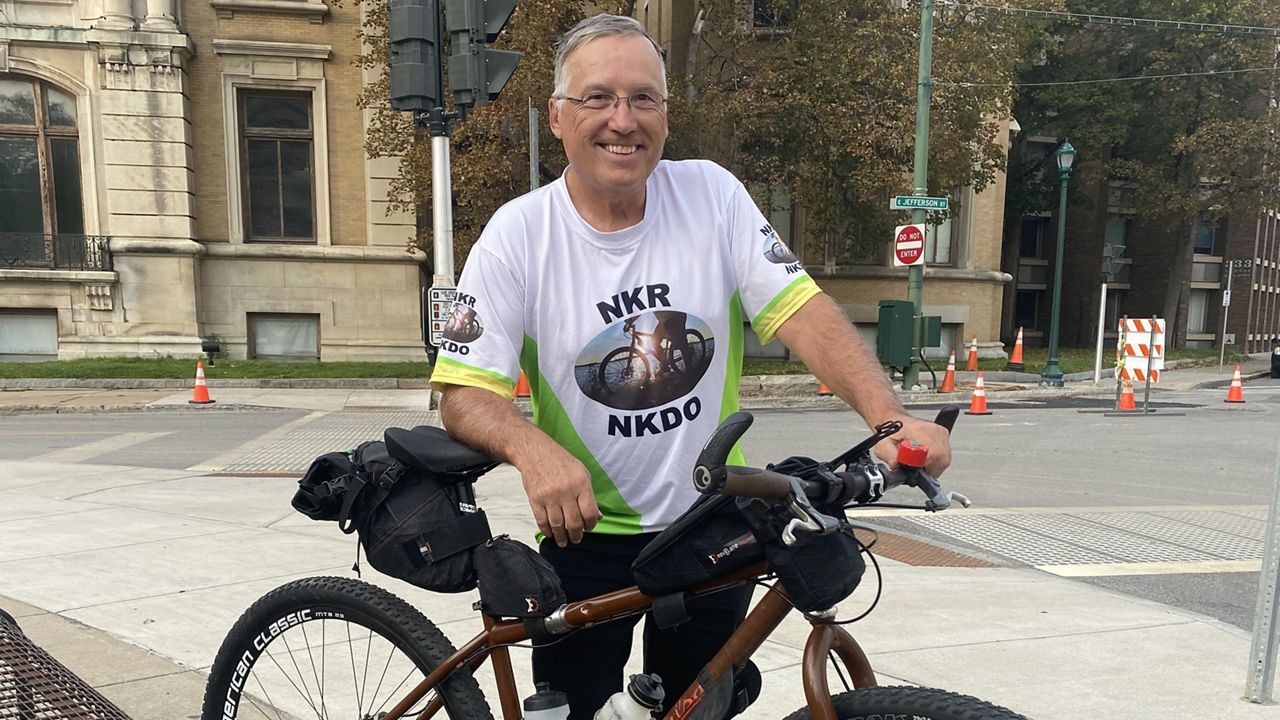 It's been about 200 years since Lewis and Clark traveled west on the Oregon Trail. Now, a 65-year-old man is making a similar trek, this time blazing his own "Organ Trail." 
Mark Scotch is riding his bike 1,600 miles from the Martha's Vineyard in Massachusetts to his home in Wisconsin. His goal is to raise awareness for organ donation, specifically kidney donation.
Scotch bikes about 65 miles a day and arrived in Syracuse last night. He will be in Rochester Tuesday afternoon before continuing through Ohio, Indiana, Michigan and Wisconsin. It will take him about a month to make the journey.
A year ago this week, Scotch donated one of his kidneys. It's something he hadn't considered until he met a stranger at a brewery in Louisiana who was on dialysis and needed a kidney. After sleeping on it, Scotch was still interested. He did some research and volunteered to donate one of his.
Scotch was not a match for the man he met in Louisiana, but brought the National Kidney Registry's voucher program he was able to help two people. Scotch's kidney went to a man in New York and his friend in Louisiana got bumped higher on the waiting list and then the kidney he'd been waiting for.
"I just thought everybody that needed a kidney got one, but when I found out people are dying and the solution is us, us healthy people," said Scotch. "We can actually really affect so many people in a positive way and basically safe their lives for a lot of them."
The surgery went well and Scotch hopped back on his bike quickly.
"I wanted to demonstrate that you could still donate a kidney and still do wild and crazy things with one kidney and still live a normal life," said Scotch. "That bothered me. I didn't know if you could or not and then I found out you could."
According to the National Kidney Foundation, an average of 13 people die a day waiting for a lifesaving kidney transplant.